SUCCESS STORIES
Piper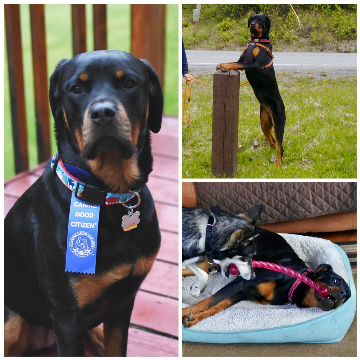 Hi everyone, I'm Piper and you see me sometimes on the Rottweiler Rescue Los Angeles (RRLA) Facebook page. I have to confess that I wasn't adopted from RRLA but I was adopted from Anchorage Animal Care and Control (AACC) in Anchorage, Alaska. So why am I on the RRLA page? Because my mom adopted many other Rotties from RRLA before (Sid, Carmilla, Orson and Lily). Now she lives in Alaska and works at AACC where I was surrendered when I was a year old. She and my dad lost Lily to cancer just a few months before I came to the shelter. When I got there I sat up at the front of my kennel and would jump up and wag my Rottie nub super fast whenever anyone walked by. So the people in the kennels got the person who would be my new mom and said "You have to meet her." Well, you know what happened after that.
My mom knew that Rotties like to work and she could tell I had a lot of drive and energy so she got me started in classes right away. In the year I've been with my new family, I've taken: Beginning I, Proofing, Agility 1, 2, and 3, Novice Tricks and Canine Good Citizen. Plus, my mom and I do Dog Parkour together. I had to take a break from all this training for a few months because I got really sick – my joints got swollen and it hurt when I moved. We found out that I had an immune disease that made me kill off my own platelets. But now I'm on medication and feeling really good...and back at work!
I turned two in July and I have lots of titles and certificates already: AKC Novice and Intermediate Trick Dog, International Dog Parkour Association Novice Parkour Dog and Specialist 4 On Level One. Most importantly, I have the AKC Canine Good Citizen title. Now that I'm feeling better I'll probably get back into agility too.
I live with my BFF, Whisper, an Alaskan Husky, and this really old dog named Blue, a Border Collie mix. I had to learn to be gentle around him and respect his space but I figured it out after I got in trouble a few times. And a cat named Elsie who I'm still not sure about (I know, it's been a year...I'm working on it!).

Nemo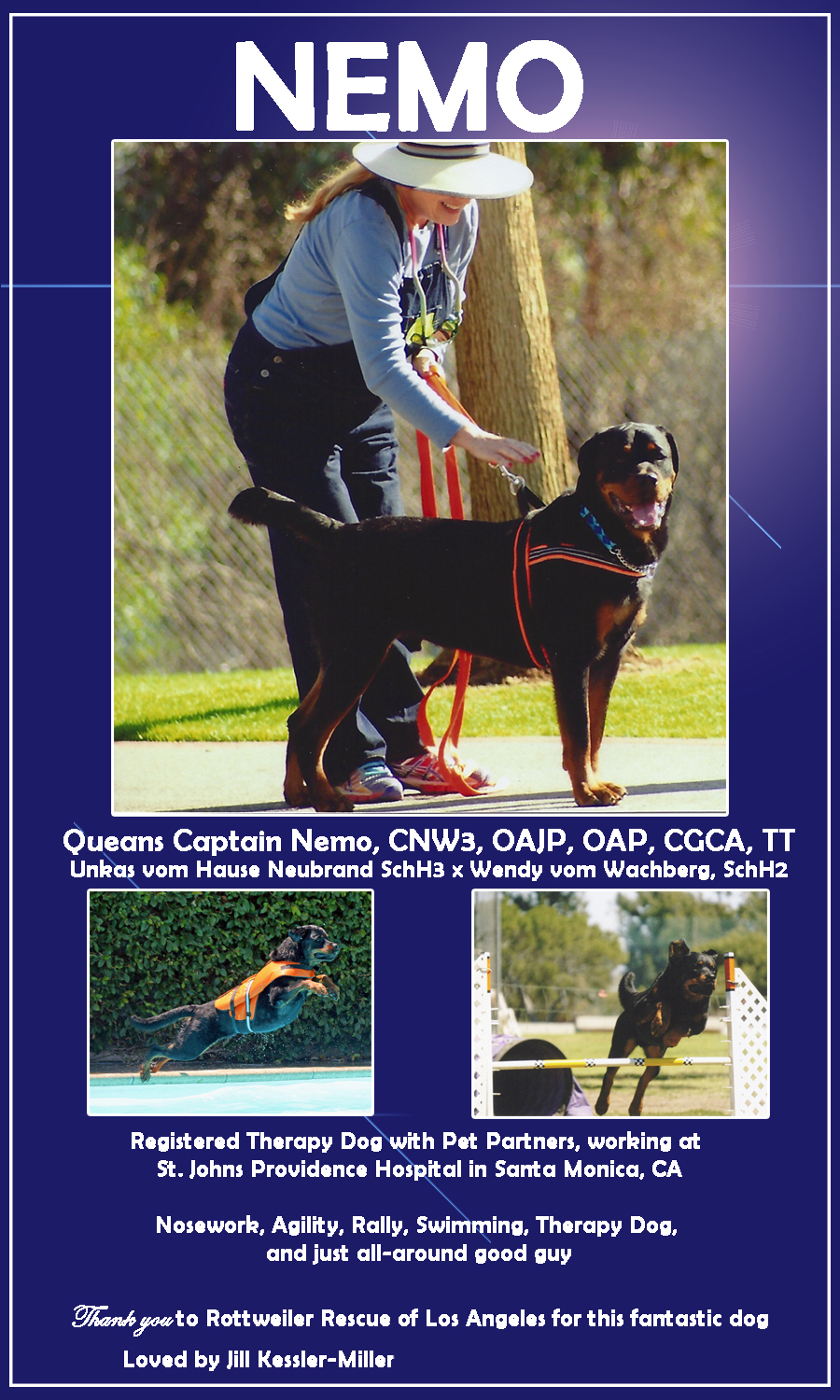 Trulee
Rescue dog becomes an AKC Champion Tracking Dog!


We are so proud of our beautiful tailed rescue Trulee Scrumptious! Adopted at barely 3 years old, she couldn't walk down the block without shutting down because she was terrified of everything! She was rescued from someone who planned a dismal life for her - to keep her kenneled for breeding and selling her puppies. Thank goodness Rottweiler Rescue of LA got her before any of that could happen. She was only two when she came to the rescue and already had a torn cruciate ligament. While at RRLA, she had surgery to fix her knee and was spayed. We kept looking at her picture and couldn't understand why she hadn't been adopted! So many people passed her up due to the tail but WE LOVE IT. In 2009 we had to bring her home and since she's been with us, she's earned multiple carting and rally obedience titles, a Canine Good Citizen Certificate and several tracking titles and today - she achieved her AKC Champion Tracking title after completing a VST (Variable Surface Track) test.
Trulee is our second of three rescues from RRLA - all three dogs were adopted at 3 years old, and all went on to achieve numerous working dog titles and are (were) absolutely awesome family dogs.
I love her to pieces. She's officially retired from working anything now and can just be a sweet puddle of Rottie.

Update on Sophie, formerly "Yoko", rescued from the Wasco animal shelter.

Elizabeth is homeschooled now & Sofie attends school with her so she is rarely in her crate. They both come to the office with me & then I hand them off to their teacher, Gina.
Sofie also sleeps with Elizabeth. Sofie just went to West Virginia for 2 weeks with us for Christmas. She is a wonderful traveler & makes herself right at home no matter where we go. She never barks in her vest so she goes to Legoland, the movie theaters, and can easily stay in a hotel for more than a week with us. She loves the car, airplanes, and is super calm no matter how much noise and chaos is around her. She got over 74 hours of service dog vest time in December without incident! She is such a champ!
And yes, at home, when the vest is off, she is naughty, adorable, and uses all of her charm to attempt to do things she knows are off limits. She is SO SMART!
She has such a good life for a dog & we are incredibly grateful to have her as part of our family!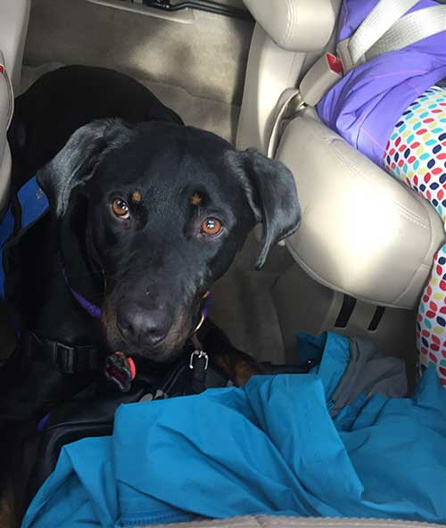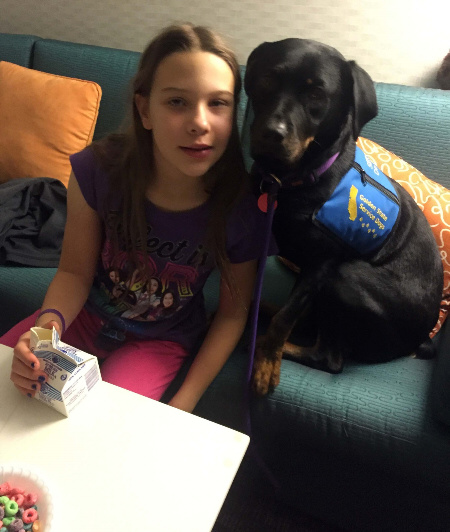 Baily
This is Carmen Jean. I spoke to Caryn a few weeks ago about Bailey who will be turning 14 in July. I found her through LA Rottweiler Rescue back in 2001. I can't believe she will be celebrating her 14th birthday on July 11th. We have had so many wonderful years together and have gone through some amazing experiences. There was a time when she was 2 years old that I thought she wasn't going to make it. She developed HGI (Hemorraghic Gastro Interitis); I believe the spelling is accurate! I recall taking her into the emergency room and of course, it was a Sunday and the didn't give her a good chance to survive the night. Well, I knew when Caryn told me she was one of two pups which survived the litter that Bailey was a fighter. I remember putting down the $2k deposit just for the overnight stay and recall walking out of there wondering if she was going to pull through. She did. She has been a fighter her entire life and my best friend.
I've been lucky in my career and I have been able to work from home almost her entire life and she has been my constant companion and side kick. She has definitely slowed down this past year but she still demands her biscuits after breakfast and dinner and will "tell" me if I'm late in delivering! Here are a few pics of her with the 1st being the day I brought her home as a puppy, the 2nd where she is waving to other boaters and the 3rd, we just this evening and I tried to capture the same pose as our first pic together.
Words can't describe how much she means to me and the constant companionship we have given each other.
Thank you for giving me the opportunity to have her in my life!
Carmen & Bailey

Layla
Wanted to share with you an update on Layla (her name was Angel when she was with you). We adopted her from your rescue in March 2012 and she has turned into the best rottweiler we have ever owned. Very obedient, loving and playful. She spends her days lounging and playing with her little (in size) brother Henry and sister Haylee. She loves the water (we take her down to dog beaches all the time) and is a great swimmer. She is gentle with kids and adults alike, just wanting to be loved by all and makes new doggy friends with ease. Smart as a whip, she know how to stay, sit, come, lie down, wait, rollover, stand, she even knows which of the toys are hers versus the littler ones.
We wanted to send you a few pics and again say thank you for taking care of her before she came to us. She is a special spirit and we love her dearly.
Should we ever want to adopt another rottweiler, we will definitely make the trip up from San Diego to come see you again!

Jampy

"Jampy" came to RRLA Nov 1, 2010, after his original owner, who was in the US military, was shipped back to Afghanistan. His girlfriend tried to keep him on an apartment balcony which I'm sure was a disaster. No doubt he was bored and frustrated out of his skull, and most likely destroyed the building down to its studs. He also came with some resource guarding, which I'm sure he learned from things being constantly taken away from him. He had, it seemed to me, some experience in pushing back on women (boy did he get a surprise when he tried to bully me). Even though Nemo did not have a sad story, suffer abuse, or come from a horrible situation, Nemo's primary obstacle is himself: his breed (who wants a Rottweiler anymore?), his high drive and working mentality, his intelligence, his athleticism, and his overall busy-body-ness. While I fell in love with him the day I met him, all the people he was shown to said "I don't want a dog that active." Thus, Nemo sat in our rescue kennels for a year and a half (a week before his second birthday until he was 3 ½ years). He played with toys in his run, played with the dogs next to him through the fence, and had as much fun as he could everyday. His good nature never flagged. When I visited the kennels he sat by his door and waited patiently for me to come to him. He never barked or jumped up. Just stared and waited. He always knew he was going home with me.
During that time I had my own Rottweiler at home, "Kipper," also from RRLA. Quite suddenly, Kipper broke his leg and had to be put down due to bone cancer/osteosarcoma. I called Beverly, told her what had happened and said "I'll be out tomorrow morning to pick up my dog."
Let me tell you, he didn't stop moving for months! He didn't nap, lie down and relax, hang out and chill—just running, jumping, getting his toys, tossing his toys about, getting into stuff (including taking my things off several shelves in my office). Like a shark, he was in a constant motion. Did I mention the food stealing? Sticks of butter, whole eggs, entire chubs of Natural Balance Meat Rolls, and, most recently, an entire turkey carcass.
I signed him up for Nosework and Agility immediately. I ran him everyday, took him out, threw the ball, did stuff . . .all it did was get him in even better condition to do all of his activities! Fortunately, Nemo and I both possess tremendous senses of humor, and we just decided to have fun with all of it. In the meantime, resource guarding gone. Better kitchen manners. Better people greeting (his previous owner taught him to jump on people). Better impulse control. Better frustration tolerance. Better everything. Nemo recently finished his Nosework level 3 title, and is only the 3rd Rottweiler in the entire US to have done so. He's also titled in agility. Nemo also "assists" me with trainings and classes (best neutral dog ever). I love this dog like crazy.
While it's sad that his original owner didn't get keep him, I'm sure happy for me that he's mine. Even though he's now six years old, he's still my knucklehead, and I suspect will be a perpetual puppy... at least I hope so.
Jäger
From Rescue to Rock Star! The story of Jäger - the dog formerly known as King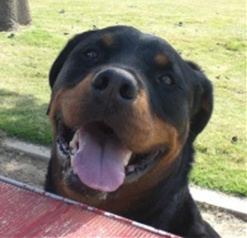 Jäger came home with us shortly after his 3rd birthday after being at RRLA for about 6 months. A high drive, high energy, dominant and strong dog that was questionable around cats was going to be difficult to place, and RRLA was not letting him go to just any home. We were looking for a female but something about this rambunctious dog captured our immediate attention and our hearts.
After we brought him home it was clear he had received some obedience training but had not learned (or remembered) "house manners". He certainly wasn't accustomed to someone other than him being the boss, and a new home with TWO humans in charge and two curious cats was quite a shock for our little guy.
Three months after trying to bolt through our patio door to get to the cats (and some de-conditioning training) they were all sharing a water bowl and catching naps in the sunshine with the occasional kitty "slam dance" against the new dog. In training, Jäger's dominance and high drive became very obvious
causing many to question if we could ever refine him and obtain attention and control for off-leash work, much less put any AKC titles on him. With a lot of training, patience and consistency our boy achieved his RN title just 6
Now that he's settled and adapted to the structured and frequent outlets for his high energy level, he has developed into a really fun, sassy, clown of a dog that absolutely LOVES to work. Our little rescue Rottweiler and his owners (!) are loving life and working in Rally, formal obedience, tracking and carting.
We are truly thankful that the RRLA believed in him enough, and especially us, to let us 'recycle' this terrific dog. After 33 years of owning and training dogs from puppies we had some serious reservations about adopting an adult "rescue".
To that we can only say, Rescue shmescue ~ THIS dog…is a ROCK STAR!

Sachi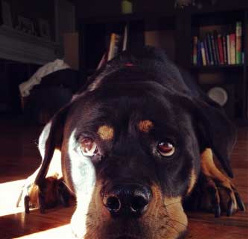 I was blessed to share my life with an incredible rescue Rottweiler--her name was Michi and she made me fall in love with this magnificent breed. Michi went with me everywhere and was my sister, my source of unconditional love, and my most consistent relationship in my adult life. After Michi's passing, I knew that the best way to honor her memory was to give another Rottie a home. I contacted Rottweiler Rescue of Los Angeles because I had always heard amazing things about their commitment to finding Rottweilers good homes, and because I had been following their website for some time.

I noticed that one dog in particular, Vicki, had been on the site for quite awhile. When it came time to visit the dogs who were available for adoption, I narrowed it down to two girls. One was goofy, and would have been an easy fit into my home. The second, Vicki, was quiet, reserved, and had been with Rottweiler Rescue for two years--once I heard that, I knew that I wanted to adopt Vicki. It was her turn to go home.

I've rescued many dogs, and understand the transition time for each dog varies; Vicki, renamed Sachi, was no exception. Sachi would constantly get up and pace, excitedly bolt out into the backyard, and did not show much attention or affection towards me. Things got a little more intense when she began to resource guard and attempt to aggresively establish dominance over both myself and my black Lab, Grover. At one point, Sachi also exhibited dog aggression, and began to get unruly on walks. Beverly and Rottweiler Rescue provided immediate support, and referred us to one of their incredible trainers, Ron Hutchison. Once we enrolled in Ron's class, Sachi and I learned how to work together, establish boundaries and more importantly, connect in a way that we both could understand and build upon. We practiced what Ron taught us every single day.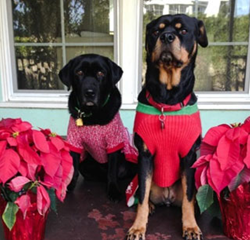 It has not been an easy journey, and I have never worked so hard with a dog in my life. However, the one thing that has been at the center of this relationship with Sachi is that we don't quit on each other, and we don't give up. With Ron's guidance, we persevered and Sachi has grown into an incredibly soulful, intuitive, humorous and SMART girl. She now readily welcomes other dogs into our home with structured introductions, and has learned so many tricks!

Sachi just needed some time--and I needed to earn her trust. This has been an incredibly rich journey and Sachi is a completely different dog now. She listens extremely well, and goes out in public with me as often as possible. We completed LA's Chinatown Firecracker 5K with thousands of other walkers, and Sachi was the only Rottweiler who participated. She was well-behaved, navigated tight crowds extremely well, greeted everyone with kisses and got many compliments. On the weekends, we love to find outdoor restaurants where we can have lunch, and Sachi can hang out on a quiet down-stay. She can go anywhere with me now because the right structures have been established. Sachi is an absolute joy!

My favorite moments with Sachi are in the mornings as I get ready to go to work. She often comes into the room quietly, and sits down right behind me just to let me know she's there. She follows me everywhere, and has become such a steady source of companionship and love. She still pushes boundaries every now and then, but what Rottweiler doesn't? When she does, we go outside for a quick work session and order is restored. She is my beloved girl who is my constant reminder that everything worth having is worth fighting for. Thank you Beverly, Caryn, and Rottweiler Rescue for trusting me with your girl. I am so proud of her and am honored to have earned her love. It took some time, but as Beverly told me, "she knows she's finally home".

Lily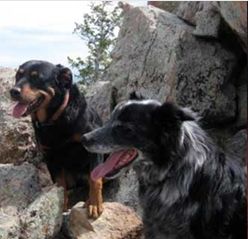 Lily is the fourth Rottie we've adopted from Rottweiler Rescue of Los Angeles. After sharing our lives with three wonderful Rotties from RRLA (Sid, Orson and Carmilla), we trusted Beverly to select our next dog for us. We told her the dynamics between the animals in our home, a male Chow Chow, a male Border Collie/blue heeler, and a cat, and asked Beverly to call us when she had the right dog to fit into that mix. She called us about a month later and told us about Lily. We drove to L.A. and without even looking at another dog, brought Lily home with us. She, of course, has fit perfectly into our home.

This city-bred dog has become quite the country girl. She moved with us to the mountains of Colorado and now lives in Alaska. She's an expert hiker, sniffer-outer of moose hidden in the willows, and is un-phased when we walk by black bears cruising the neighborhood.

Now that she's a senior (almost 9 years old) she considers the morning walk optional and will often ignore me when I ask if she wants to join us. Sometimes, sleeping in is the better choice. But she's always ready for the evening walk and for weekend hikes. She also loves a good game of tug and keeps a close eye on her collection of tug toys. Cuddling on the couch is her past-time of choice.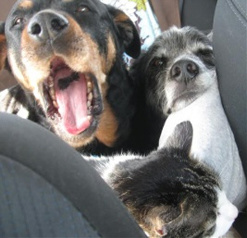 Blue, our BC/heeler mix, is her BFF (she loved our Chow Chow also but he passed away in 2010). Her other friends include Sammie, the Jack Russell/heeler next door, Loki, the Boxer mix down the street, Zorro, another blue heeler, Michael the Irish wolfhound (she actually has a huge crush on him), and Tumblehome the poodle. However, she hates Moose and Mojo who live behind us and will awaken from a sound sleep to growl at them (from the couch) if they dare to venture out in their own yard.

Lily's greatest gift to us is her ability to make us smile and laugh every single day that she's been with us.
Raggs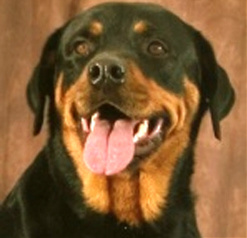 I was 3 months old when I was turned into RRLA by someone who cared what happened to me.
I didn't know it then, but the person who came to pick me up was also going to be my new owner. I guess she figured that after being passed around to four different homes I'd had enough bouncing from one place to another! I was taken to The Animal Care Center of Huntington Beach where my new owner worked. The first thing that had to happen was a bath as we had to get rid of all the bugs on me. Boy did it feel good to be clean and smell good!
I was very naughty in the beginning; I chewed up stuff, got into lots of trouble eating rocks and socks. I can still suck a nice round hole in my bed. It's a good thing that it all comes out in the end!
My mom started me in obedience class. We train at CIT with Cindy and Nancy, and as it turns out I love to work. I guess I should tell you that I was and still am sometimes fearful of people but my mom tells me things will be ok and they are. I should also tell you that shortly after starting obedience class it was discovered that I had a broken hip. Dr. Eich said that someone had dropped me or kicked me as a little puppy and that's how it got broken. After surgery to fix my leg I had to recover so no more obedience, till I got better.
It was sometime later that a friend of my moms, Donna,also adopted a dog from RRLA, her name is Belle. Donna and Belle were working on a new kind of obedience title called Rally. Donna invited my mom to a dog show so she could see how well Belle was working. That was it, my mom knew I could do all the exercises needed to complete a Rally Title so we went back to class for some brush up work. I am now Raggs CD RE and working on my RAE. I am not able to jump the full height for the more advanced obedience titles but in Rally I only have to jump 16" and I can do that with my eyes closed.
Look for my mom and me at a dog show near you!
Thanks for reading my story Raggs the rescue dog. And who says you can't compete with a rescue.
Bunny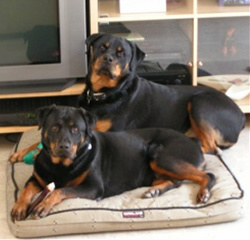 We adopted "Princess" in April 2005 and renamed her Bunny. She was listed on the website as "large" but she only weighs 75 pounds, so she seems petite to me.
Bunny had wanderlust when we got her, always eyeing the door and under the gate for the first few months, but got over that. I can walk out the front door now and leave it open and she will sit waiting until I walk back in. She didn't know how to walk on a leash before and training her to walk with me was a lot of work, tripping on her and ensuring she let me walk ahead. That tired both of us out, but she is great on a walk now, happy to be part of our pack.
She is people friendly, but will try to jump on and dominate small females and children (we don't have kids). I guess that may be one reason why her other two homes didn't work out. She will always behave if one of us is with her, so we make sure she never meets a new person without one of us present.
She continues to have separation anxiety. When we first took her home, my husband was working from home and never gone more than a few hours, so that helped a lot. We tried to crate train her and she freaked out one day, damaging a front toe. She got to get some cosmetic surgery after that incident. She likes to go to the vet, so that's a good thing. We leave her home everyday now with our other dog all day and she is fine. I never leave her outside when we are gone because she can really jump and I don't want to take a chance. They are happy in the house. If we have to take the male to the vet, she has to go, too, or she slobbers all over the windows and doors.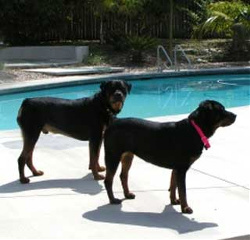 Our male would spend all summer in the pool if we would let him, she hates the pool, but will lie next to it if we are all in it. She really responds to our voices now (remember I said at first that she didn't seem to notice when you talk to her?) She just wasn't used to people talking to her.
She LOVES her toys and will gather up all of them until she has a pile of 10 or so on her bed and then she chews on one while hoarding the rest and the male sits and looks sad from a distance. She spends most of her time guarding her toys from the world, watching out the floor to ceiling windows on the back of the house. Silly girl.
Thanks for taking care of our girl until we came to get her.
Linda and Nick
Molly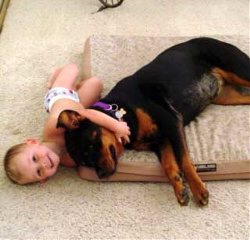 Molly had been with Rottweiler Rescue for two years when I adopted her. She had been abused as a puppy and was afraid of men because of the abuse. In January of 2006 I adopted her and she has blossomed. We go for daily walks every morning at 6:00am. She has learned to welcome everyone, including men, as friends. She has learned how to play with other dogs and goes to the park regularly to romp with her friends. We are still trying to teach her to fetch ball, but she thinks that's below her, maybe someday. She has developed a close relationship with my grandson and loves to play with him, as you can see from the picture.
As for me she is my companion and my comfort. We sit at night and share stories of the day and popcorn. Molly is a devoted friend, what more could anyone ask for.

Roxy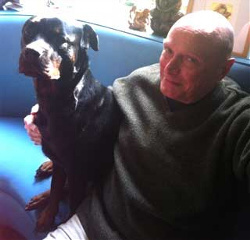 I adopted Roxy in November 2010. In the beginning, she was very difficult to handle on walks and would lose her mind when she saw other dogs, lunging, snarling, barking. With significant training and patience, she has overcome her dog aggression issues and has emerged a secure, confident, loving companion. She's bonded with everyone in the family now, including other dogs and small children.
My dad passed away in May of this year. He had been terminally ill and, towards the end, was in great pain and discomfort. Roxy could tell when he was having an especially bad day and would lie on the bed with him, gently resting her head on his chest as he stroked her ears. Though she was also very loving towards my mother, she was especially close to my dad and remained one of the few things that could, without fail, lift his spirits. Since my dad's been gone, Roxy sometimes goes into his bedroom to lie on the bed. Needless to say, she's a very intuitive and intelligent dog.
My dad's death left a great hole in my heart and, as I often do, I've sought out the comfort of animals. I adopted a little female terrier a few months ago and, with time and patience, she and Roxy have become good friends. Roxy's very gentle with her and doesn't seem to care that she sometimes hogs my attention. Thank you, Beverly, for believing in Roxy and for trusting me with such a special dog. After my first beloved Rottweiler, she is absolutely the love of my life.

Aria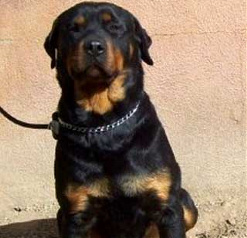 My name is Aria, and I'm a Rottweiler. My life is wonderful, but it wasn't always that way.
I was purchased as a puppy to be shown in conformation and when not being shown lived in an outdoor kennel until I was almost two years old. At that time my owner's wife became pregnant and she wanted the dogs gone. I was then given to Rottweiler Rescue and lived there until I was almost three years old. I didn't get a home right away because they felt I was possibly dog aggressive with too much "drive." They wanted to place me with someone who had a lot of experience with Rottweilers, so I kept waiting for my forever home.
At last, someone came looking for a Rottweiler that had the exact qualifications required, and she picked me! My new home was a huge change from my previous life. I now had to face "life on the outside," which was all new to me because I had never lived in the "real world," which was strange and scary to me. With the help and love from my new mom I conquered all those fears. I am now a well balanced dog (turns out I was never dog aggressive). I live in a home with three other dogs, and we all get along. In addition, I have other dog and human friends outside of my home. I used to be afraid of men (who knows why), but not anymore. I like other dogs, kids and adults.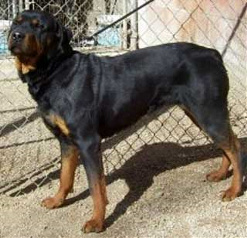 The first thing my mom did was to work with me to obtain an AKC Canine Good Citizen certificate. We then began training for our AKC obedience titles. We have achieved our AKC Novice Rally title and our AKC Companion Dog title. I'm also a "Read Assistance dog for children through PJ's Pals.
Best of all, I completed all the training necessary to become a Certified Service Dog for my mom. I love being a service dog and being with mom all the time, helping her when needed When we are together out in public we get a lot of compliments on how well behaved and pretty I am. Life is great when you're a rescue dog who gets a forever loving home and family. From The Daily Press newspaper in Riverside, CA. Anita's entry won the Adult category for her dog adoption story.

Precious
Every day our girl settles in a little MORE – honestly she makes us laugh every day. Yesterday she started INTRO to Nose Work at Gentle Touch Pet Training in Arroyo Grande. Boy oh boy, did she have fun. We think she is wondering what took us so long to find something for her to do that began with nothing other than finding food in boxes?!! She is a natural and quite frankly stole a couple hearts :0) While she was waiting her turn in the car, she was certainly interested in watching the Agility training that was going on . . . Hmm, just might have to introduce her to this perhaps in the future. She is showing some intermittent pain which we think might be arthritis in her left hip. The vet suggested a joint/arthritis supplement which we have ordered and will start her on this upon its receipt. She is eating premium grain-free kibble along with FreshFactor supplements – for joint support and vitality. Her coat and demeanor are outstanding we just worry some about the intermittent pain – she cries when getting up and initializing movement – then it seems to work out. Will keep you posted on progress here.
Every day she is out on at least 1 and more than likely two LONG walks. Daily car rides everywhere . . . much snoodle on her back window!! And of course those walks on the beach always on a leash and/or long line here. We certainly wish other dog owners would obey the rules regarding having their dogs on leash, particularly at the beach.
A couple pictures attached – more to follow from class and the beach.
Love ya, Grandma Doggy!
PRECIOUS and the Wolls